Brian Meyer, President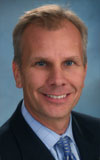 Brian Meyer is president of ACI, and Meeting Expectations, its parent company. In these roles, he is responsible for the overall strategic direction, executive and consultant development, key customer contact and the financial performance of the companies. He also serves ACI as a principal consultant, identifying strategies for non-profit organizations to make operational and strategic improvements.
Meyer joined Meeting Expectations in 1997. Before becoming president and CEO, Meyer was financial manager and vice president of finance and administration.
Previously, Meyer served as managing partner at Meyer and Johnson Accounting Firm, serving a wide variety of clients such as Women's Health and Fitness and Dunkin' Donuts of America.
Meyer received a Bachelor of Science degree from the University of Florida with a concentration in finance and accounting.
For more information, e-mail us at info@ascendci.com, write to Ascend Consulting, Inc., 3525 Piedmont Road, Building Five, Suite 300, Atlanta, GA 30305 USA, or call +1 404.240.0999.